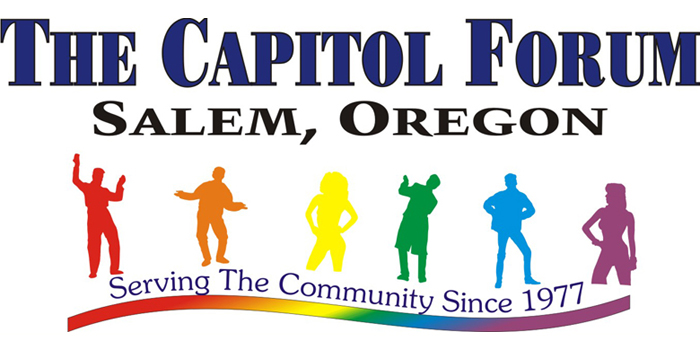 Home | Capitol Pride | GLBT Book Reviews | The Amazon Trail | Salem Calendar
Salem / Mid-Valley Links | Oregon / National Links | Charities | Past Events | Contact Us!
The Capitol Forum is an organization that has been involved in the Salem community since 1977. Its purpose is to be a non-profit, service, social organization serving the needs of the individual, especially those residing in Marion, Polk, and Linn Counties.
We serve individuals regardless of background, orientation or position in life by:
Uniting people in a positive program dedicated to aiding the growth of the individual through charitable, educational and recreational experiences
Building support and spirit within the community
Fostering mutual acceptance and understanding between all segments of the community
We welcome and encourage you to join us as we continue to work towards making Salem a true City of Peace.
Local Events
Because We Care, The Community Holiday Show
Sunday, November 29th, 2015. Doors open at 5 pm, show at 6 pm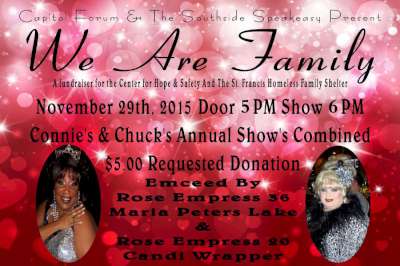 Capitol Forum and Southside Speakeasy presents "Because We Care" The Community Holiday Show on Sunday, November 29th, 2015. Doors open at 5 pm and the show begins at 6 pm. View Event Flyer (PDF)
This show is a combination of Connie's Charity Show and Chuck's 71st Birthday Show! The Community Holiday Show benefits Center for Hope & Safety and St. Francis Homeless Family Shelter.
Hosted by Rose Empress 36 Maria Peters Lake and Rose Empress 20 Candi Wrapper! Invite your friends to come out for a great night to benefit some great community services.

Thank You Sponsors! We couldn't do it without you. Check out our list of sponsors who have made this benefit show possible. Let them know you appreciate their involvement to help make the local community a better place for everyone.
Community News
© Copyright 1977-2015 The Capitol Forum of Salem, Oregon. P.O. Box 663, Salem, Oregon 97308-0663. All Rights Reserved.
Webmaster: Email. Updated: November 26, 2015.