CHUCK'S ANNUAL BIRTHDAY SHOW
SUNDAY DECEMBER 3RD, 2023
Business Sponsor Packet (PDF)  |  Individual Sponsor/Donor Packet (PDF)
Items Needed (PDF)  |  Show Flyer (JPG)  |  Show Flyer (PDF)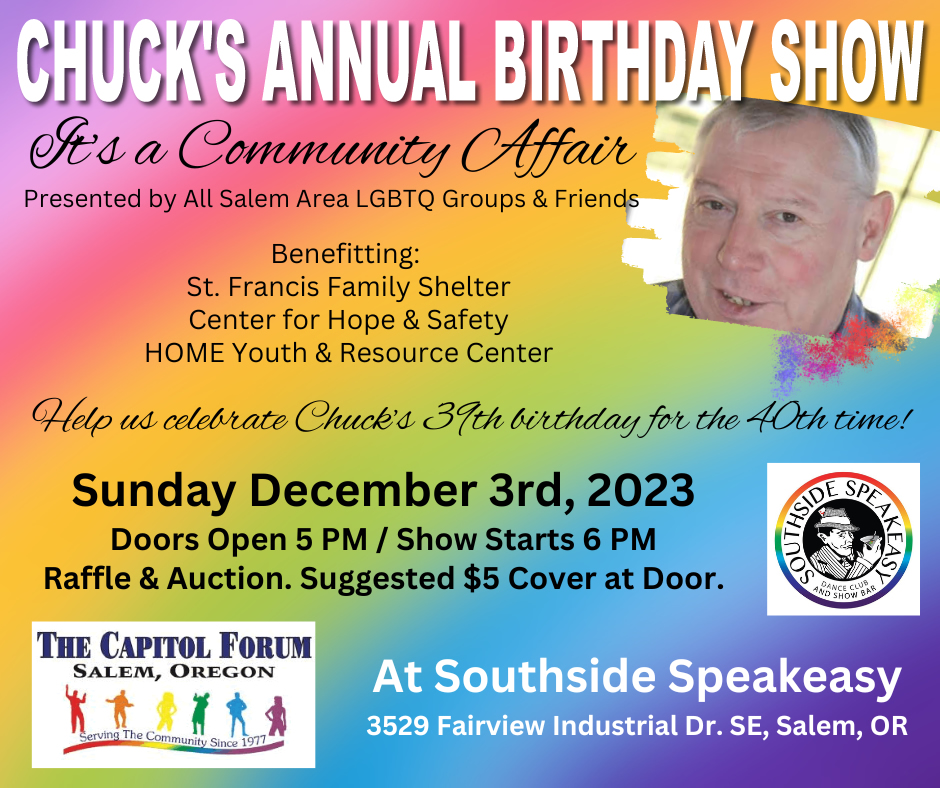 Chuck's Video Invitation
Click the video for Chuck's personal invitation to help celebrate the 40th anniversary of his 39th birthday on December 3rd at Southside Speakeasy in Salem, Oregon.
Join us to celebrate the 40th anniversary of Chuck's 39th birthday on Sunday, December 3, 2023. This fundraising event is being held at Southside Speakeasy in Salem and benefits St. Francis Shelter, Center for Hope & Safety, and HOME Youth & Resource Center. Doors open at 5 PM. Show begins at 6 PM. Suggested $5 cover at the door.
Feel free to share the event flyer at your business and on websites or social media. Show Flyer (JPG)  |  Show Flyer (PDF)
We are in need of donated items for raffle and auction such as gift certificates, gifts, t-shirts, items to make gift baskets, etc.. We hope you will help. We have a special OLCC permit to raffle and/or auction alcohol items (liquor, wine, & beer single bottles or in gift baskets) for that night only. We are also asking for sponsors for the show.
View/Print: Business Sponsor Packet (PDF)  |  Individual Sponsor/Donor Packet (PDF)  |  Auction & Raffle Items Needed (PDF)
Thank You Sponsors! We couldn't do it without you. Check out our list of sponsors who have made this benefit show possible. Let them know you appreciate their involvement to help make the local community a better place for everyone. View a list of past sponsors.